Tropical Responses To Altered Climate Experiment (TRACE)
Image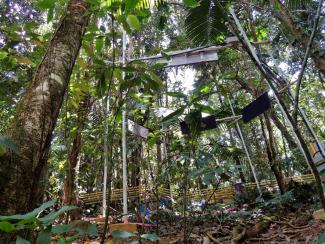 Summary
Tropical forests take in and store more carbon dioxide than any other biome around the world, but climate change may pose a threat to this invaluable service. Scientists from various governmental agencies and universities are working together to measure the potential impacts of climate change- particularly temperature increase- on soil structure, carbon cycling, and plant physiology. The TRACE experiment consists of using infrared heat to warm the soil and plants of the understory, as well as individual leaves and branches in the forest canopy.

On this website, you can learn about our project and join us in our efforts to better understand how tropical rainforests will behave in a warmer future. This experiment will help improve conservation strategies for these irreplaceable ecosystems and all the biodiversity and natural resources they sustain.
Relevance
TRACE is the first-ever warming experiment to be conducted in a tropical forest ecosystem. Photo is one of the warming plots in the Luquillo Experimental Forest, Puerto Rico.
Link
TRACE
Opens in a
new
browser window